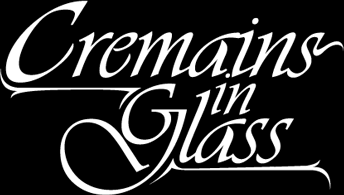 "Cremains in glass was not something I originally felt comfortable with, since I have a fear of death. When the tragedy occurred in our family I wasn't comfortable facing the fact that something so serious had happened to our family and didn't want to see anything to make it seem more real. I wouldn't ride in the same car as the ashes after the funeral, because I didn't want to accidentally see them."

"When presented with the idea of seeing the ashes of my uncle, aunt, and little cousin and using them inside of glass I was reluctant. I thought it was a very interesting idea and loved the concept of the ashes being forever surrounded in glass, but not sure I was ready. I'm glad I did. It helped me face my fear of death and allowed me to sit down, with the help of my creative brother, to create something I could take with me always. I choose to keep my orb on my living room mantel, but not like an urn, but rather a solid piece of glass I can hold onto if I need some guidance at anytime throughout the day. A way I can have a piece of my loved ones in my home."

"I hope that cremains in glass is successful, in being a coping tool for others who have lost loved ones like we have. An orb you can keep in your pocket or a necklace that isn't just a fashion statement, but piece of someone you care for and miss with you always."
-Scott Stallard
---
"After the loss of my three family members it was decided to mix their cremations so they could be together as they would have wanted to spend eternity. They would have also wanted each of us to keep a small amount of their joined remains so we could have them around us for the rest of our lives. Having this beautiful clear orb of the ashes that I see everyday reminds me that I will see them in my next existence."
-Cary Quarles
---
"I was devastated when my husband died. Our time together had been so brief - just 3 1/2 years. We had dated seriously when I was in college in the early 70's and Mike was an Air Force Sergeant. We were engaged for a time, but I wasn't ready for marriage and life took us down diverging paths. 38 years later, he found me by searching the internet and from the moment I opened that first email, our lives were rejoined. We were married a year later and our time together was truly blissful. His diagnosis of leukemia was tough to hear, but we adapted our lives to his treatment and made the most of the time we had. His death came far too soon and even though I knew it was coming, I was lost when he died. I wore his wedding ring on a chain along with the cross he had given me, but I wanted to find a better way to wear it. A good friend told me about Cremains in Glass and suggested I check out their website.

Graham is truly a perfectionist and the finished products were so much more than I had hoped for. He made a beautiful pendant using Mike's wedding band and beads incorporating his ashes. I wear that pendant every day and smile now, knowing the man I love so much is with me every moment. Graham also created Pandora style beads for a bracelet, a second pendant, and an amazing orb that incorporates blue glass that lets the sun shine through along with the ashes. Holding that orb in my hand is like holding a miniature earth in my palm. Everyone I show these pieces to is amazed at their beauty. For me, the ability to always keep with me a small part of the husband I love so much has been a blessing and a comfort and has eased the pain of the loss."
-Priscilla Chaney